Vestivo RV Online Reservation System




Online Reservation System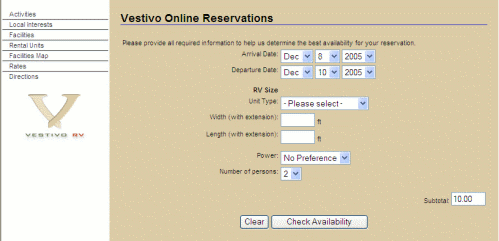 Click on image to enlarge.


For your customerís convenience, Vestivo OLRS can be integrated into your existing website or the user can be directed form your website to a separate page. While browsing your web page, your customers can immediately check for availability and make a reservation.



Checks Inventory for Availability


Charges Appropriate Fees


Customer can Print Confirmation


Free up Your Phone Lines


Improves Customer Experience


Real-time Updates to RMS

The OLRS is fully integrated and automatically updates the Reservation Management System and provides real-time notification on the RMS Home Page. No need to download or update the Reservation Management System to avoid double bookings.



Updates RMS Including Customer , Reservation, and Payment Information


Booked site is automatically removed from available inventory


Allows you to instantly view and modify online reservations should the guest
needs to change or update their reservation


Payment Options

The Vestivo Online Reservation System (OLRS) handles all customer payments whether you choose to accept deposits for reservations or payments in full or defer them until check in. The OLRS can accept credit card and process them online or transmit the encrypted data to be process in batch. All payments are updated in real-time in the Reservation Management System (RMS).


Prints Gate Passes, Car Passes and Statements

Customers are given an even greater convenience by being able to print their own statements and, if management desires, car passes and gate passes. (Gate passes are available if the Vestivo Gates Software is being used).